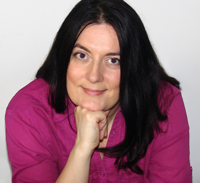 Tanja Ristovski is an expert for psychological astrology with special interest in parent-child relationship, partnership and life planning. She started her counseling practice in Vienna in 2009.
Psychological astrology that she practices leans on the motivational-psychological thought. This approach is oriented towards self-knowledge and solutions in the same time and you'll find out that it's very efficient.
Tanja firmly believes, that dynamic connection between the personality and its environment defines the places of self-determination and that astrological world view supports our awareness and implementation of free will.
She is a highest honors graduate of Noel Tyl´s demanding Master´s Degree Program* for professional astrologers. Parallel to her astrological practice she works in creative field.
She is born in Belgrade in 1969 and lives in Vienna since 1997.
*Noel Tyl is one of the worlds foremost astrologers. In the 1970's, it was Tyl who first integrated psychological need theory into astrological analysis which put astrology securely in pace with the most sophisticated disciplines of humanistic studies. Tyl was a co-founder of AFAN, astrology's world organization, where he served as Presiding Officer for eleven years. He is recipient of Regulus Reward.
© Tanja Ristovski