11 Dec 2022 | © Tanja Ristovski 2009 - 2023

---
The media reports surrounding the death of Queen Elizabeth have made me aware of the discord in the British royal family. So I wanted to look at the horoscope of Prince Harry and Prince William. The first glance at the royal siblings' horoscopes made me curious: William's horoscope shows elevated Jupiter, while Harry's shows elevated Saturn. The symbolism of these two planets couldn't be more different. While Jupiter symbolizes wealth, prestige, and nobility, Saturn symbolizes poverty, low rank, and difficulty. In psychological astrology, their symbolism is associated with different character traits and different behavioral motivations.
SUMMARY
- What does Prince William's natal chart reveal?
- William's ways to overcome challenges in the development - astrologically speaking
- Prince William's attachment to the family and the spouse
- Astrological signatures in Prince Harry's natal horoscope
- Harry's handling of identity and emotional matters - astrologically
- Harry and Meghan
- Sibling relationship in the horoscopes of the brothers
- Effect that William and Harry have on each other
- Passionate indignation and public attack as percieved self-defence
- The conclusion - Saturn and Jupiter
People interested in the royal family must have a better insight into this family feud. Nevertheless, I got enough information to understand that Prince Harry was dissatisfied with his life in the family and his work for the royal institution. As a result, he left Britain to have a more self-determined and free lifestyle. As far as I know, William has never commented on his private life or royal responsibilities. He performs his duties as is expected of someone who will inherit "The Firm" and represent the establishment.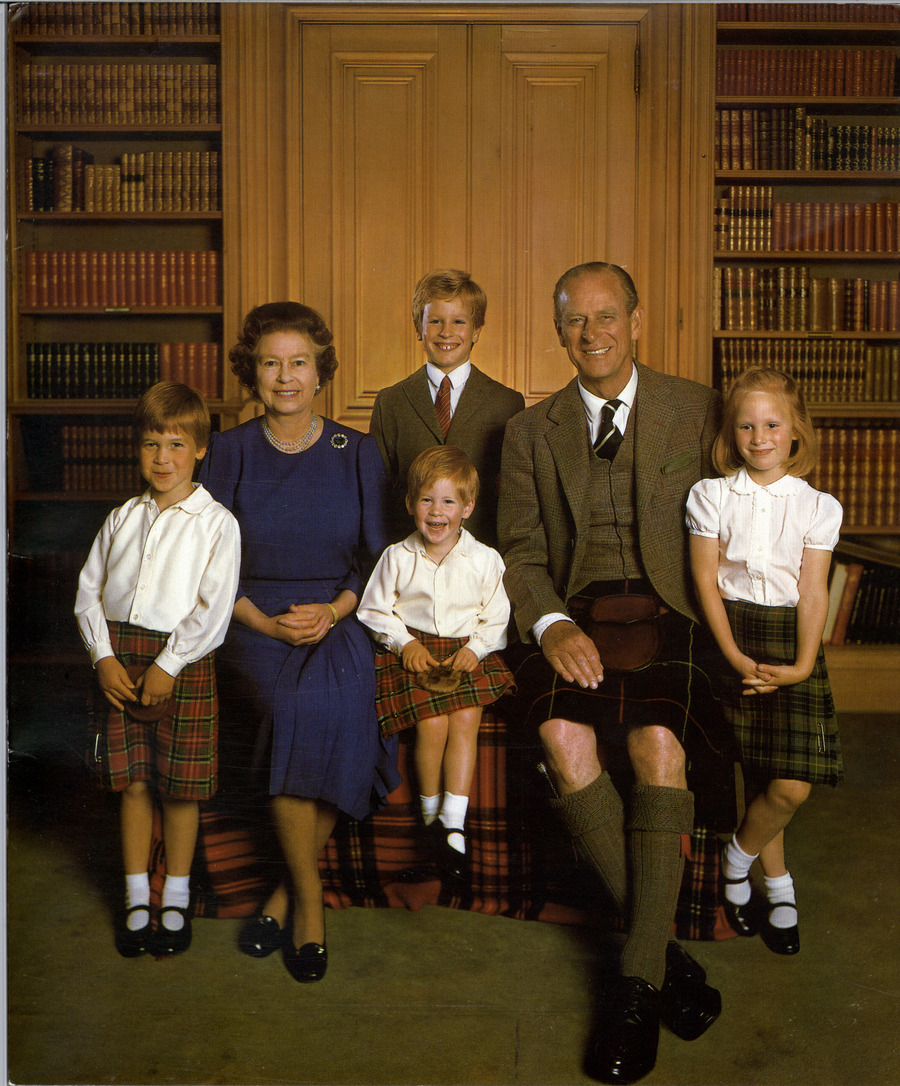 Phot Credit: Archives New Zealand - Flickr: Christmas Card issued by H.R.H. Queen Elizabeth II (1987); CC BY-SA 4.0
Prince Harry's autobiography, to be published in early 2023, is titled "The Spare." The title alludes to the hereditary royal system and his position as secondborn, as someone who's prepared for life with different attention than the firstborn. In addition, Harry and his wife produced and released a documentary for Netflix, which is supposed to be a controlled revelation of their lives and motivations. I have not seen the documentary, but from the comments in New York Post, New York Times, and Wall Street Journal, it is consistent with the Instagram kind of self-presentation, the one utilized by influencers.
Let's see what astrology has to say and if the birth charts of William and Harry give a clue as to why their intimate experience of their family is so different.
What does Prince William's natal chart reveal?
Prince William's natal chart shows Moon and Sun in Cancer in the seventh house. Sun and Moon form a close trine to Jupiter in the water sign Scorpio. This constellation indicates a strong need for emotional security and belonging, preferably within the family and partnership. The Sun rules the 8th house; both luminaries form an opposition to Neptune in the 1st house and square Mars in detriment in the 9th house. Mars rules the 10th house, Jupiter conjuncts the cusp of the 10th house and rules the Ascendant and the 12th house.
These constellations reveal that William learned to habitually dilute some of his personality traits or needs and show some level of self-denial due to influences in his early environment. Also, they indicate a degree of anxiety and inner conflict, primarily related to the parent represented by the 10th house, her worries, fears, and unresolved personal agendas.
The other pole of the parental axis, the 4th house, is ruled by Venus in domicile. The opposition with Uranus is the only Ptolemaic aspect that Venus forms. That suggests a strong-willed, individualistic, detached parent. The 4th house usually signifies the father, while the 10th house mother. In contrast to the 10th house parent, this parent feels comfortable in his skin and is pretty set in his ways. With Mars in Libra in the 9th, ruling the 10th and 11th houses, and squaring the Sun-Moon conjunction, the mother's fears will unsettle William's self-esteem and sense of being lovable. The Moon-Saturn square adds a sense of responsibility, or burden and limitation, to this parent-child relationship. That is not to say that Princess Diana did not love her child. Instead, it tells that unresolved inner conflicts of the parents can affect children in one way or another. On the other hand, Uranus in 11th in opposition to Venus suggests that the relationship with the father will generate a similar effect. In the book "William's Princess" the royal correspondent Robert Johnson gives a hint that illustrates one aspect of this astrological constellation. He writes that Princess Diana confided in William, and we know that she had conflicts in her marriage and with the royal family. The entrustment must have burdened an adolescent with a strong need for bonding within the family network.
Williams ways to overcome challenges in the development - astrologically speaking
However, the essentially dignified Saturn in Libra is in the 9th house and rules the 2nd house. It points to a belief system of his family that has influenced William, which constructively supports and resolves his possible self-esteem issues. Saturn represents all that is old and traditional and is in its Exaltation. Considering reality, this is likely related to William's belief in tradition, his birthright, and his upbringing as a future king. Thanks to Mercury in Gemini trine Saturn and Mars in Libra, he has the propensity to think soberly and analytically. He can arrive at a calm and discreet way of resolving his inner conflicts through rationalization. Jupiter, the ruler of the Ascendant on the MC, in a sextile with the place it rules, and being in a trine with the luminaries indicates that career and social identity are channels through which William can relieve the anxiety resulting from habitual self-restraint.
Prince William's attachment to the family and Kate
We have seen that the prominent constellations in William's natal chart show that family is his most important motivation. Therefore, it seems only consequential that he chose to remain in the safety net of the family. Ultimately, the general theme of his natal chart is consistent with his life situation, for William's family is also the "Firm" for which he works.

In the representation and work of the royal family, a spouse at the lower level of the hierarchy takes the supporting role for the other, who has a higher rank. Despite these prescribed operational roles, spouses and partners, as in any other relationship, reflect certain aspects of one's personality in one way or another. Accordingly, Kate is indicated in William's horoscope by the 7th house ruler, Mercury, in trine to Saturn. Sun and Moon are on the cusp of the 7th and trine Jupiter, their dispositor by exaltation, and symbolize Kate's constructive support to William. In other words, the parts of his personality that need emotional security and a family nest, as well as parts that need to establish social status and professional career, flow into each other without friction and are reflected in Kate's personality.
Astrological signatures in Prince Harry's natal horoscope
Let's now take a look at the birth chart of Prince Harry. It shows Moon in Taurus and Sun in Virgo. A strong need for security is also depicted in this horoscope. However, the main emphasis is on comfort and freedom from deprivation, not emotional attachments. Analytical mental power filters experience and directs focus to that which is reliable, constant, and practical. The Sun in Harry's chart squares Mars, Neptune, and Jupiter; Mars in the 11th is the ruler of the 10th house; Jupiter commands the 2nd, 11th, and 12th houses and Mars. Mercury governs the Sun in the 8th. We see here the reiteration of the 8th and 12th house theme and a strong indication of emotional troubles, perhaps even mental suffering. The Moon in the 4th house forms an opposition to Saturn in the water sign. Saturn rules the Ascendant from the cusp of the 10th house.
These constellations connect both parents with Harry's inner conflict and frustration and signify a sense of deprivation. The dynamic Harry was exposed to affects his self-esteem and feelings of lovability. The natal Sun in the 8th house applies in a square to essentially and accidentally debilitated Jupiter and Neptune. This combination tends toward strong opinions, self-righteousness, and escapism. It also describes Harry's bumpy road before he heals his wounds. He will have to gain more self-clarity and learn how to define goals and act on them efficiently, which means he would have to resolve issues symbolized by Sun square Neptune, Jupiter, and Mars. Mercury in Virgo rules his Sun; it is placed in the 8th house and makes a square with Uranus. The critical view of things is pronounced. Uncertainty is high, and perception and rationalization contribute to the constant psychological tension because the focus is on the issues of dependency and suffering. That can lead to tense communication that causes more turmoil than it helps to find a solution.
Harry's handling of identity and emotional matters and his public resentment
Saturn in Scorpio, on the cusp of the 10th house, rules the Ascendant and points to the profound need for self-protection, which originates from the parental dynamics of the younger years. The theme of deprivation and separation dominates in his horoscope. So much so that he seems to build his public persona around it - the interviews he gave since he ceased to be a member of the royal family revolve around fear of loss. Mars rules Saturn, the 10th and 3rd houses. Mars in a square with the Sun in the 8th increases frustration and the tendency to waste energies. The dominating constellations indicate general discontent with his personal and social identity and suggest difficulty finding his own path.
The complex constellations in Harry's natal chart reflect his self-perception, which he has voiced publicly. Astrology corroborates that he has been unfulfilled and significantly suffered in his life situation. So it is no surprise that he has resigned from royal duties. However, astrology cannot determine his status, rank, or ethnicity. What seems unexpected to the outside viewer are negative feelings towards his family that he makes sure are made public and are allegations of mistreatment, and more than that. The public display of resentfulness is the signature of Saturn in Scorpio on the cusp of the 10th house.
Harry and Meghan
As I mentioned earlier, our partners always mirror certain parts of our personalities in one way or another. Consequently, in Harry's horoscope, Moon rules the 7th house and symbolizes the wife, suggesting that she partakes in the conflict related to Harry's theme of deprivation and issues with social identity, as is represented by the Moon's opposition to Saturn. The fixed signs of the Moon and Saturn along the 10th-4th horoscope axis make it complicated for Harry to push through the radical changes. Despite living at a distance, he is still stuck in the family dynamic from which he wants to break free. Using his royal family titles and royal life as a basis for building a new, financially independent life could be a practical approach. However, it also gives the impression that he is trapped by having a problem defining himself without reference to his family.
Sibling relationship in the horoscopes of the brothers
In the context of parental dynamics in general, in both William's and Harry's charts, the father is represented by Venus and the mother by Mars. Furthermore, Venus is essentially dignified in both charts, and Mars is peregrine. That suggests that the father is perceived as someone who navigates his life with confidence, while the mother is someone who does not have that assurance. The symbolism of Mars and Venus leads me to believe that Prince Charles was the one who tended to avoid arguments, and Diana was the one who was more temperamental behind closed doors, at least in the eyes of their children.
Reading only from the natal charts and the condition of the 3rd house of siblings, we see that both have the 3rd house ruled by Mars. That suggests a competition between brothers as the central theme in the relationship, possibly also disagreement or hostility. Mars in Libra in William's horoscope, being in detriment and more malicious in effect, implies more substantial damage produced through sibling dynamic than the peregrine Mars in Sagittarius in Harry's chart symbolizes. The damage to William is also more public because Harry's Mars squares Williams's Sun in the angular 7th house.
Effect that Prince William and Prince Harry have on each other
If we compare the brothers' horoscopes in the context of the current family feud made public by Harry, we see that Harry's prominent Saturn in Scorpio falls in the 10th house of William's radix. Harry's public resentment of what he perceives as deprivation or shortcoming in his family damages William's reputation. Harry's debilitated Jupiter, configured with Neptune into a square to his Sun, carries connotations of self-righteous indignation, falls in William's first house, and is in opposition to the Sun and Moon in his 7th house. Because Jupiter and Neptune affect the angular houses, Harry may generate a negative public effect on William.
William's horoscope is not making such connections to Harry's. Despite the suggested possibility for communication that may slide into mutual irritation, as indicated by Mercury square Mercury across both natal charts, William's influence does not extend to public areas of Harry's life, such as his career or social standing.
Saturn-Mars conjunction from William's natal chart squares Harry's Ascendant and falls across Harry's 8th and 9th house. This contact can make Harry feel suppressed in some ways; he may experience his brother as dominating or demanding. But not being angular, the Satur-Mars influence is not apparent. The only angular contact to Harry's horoscope is that of Venus conjunct Harry's Moon in the fourth house. Venus rules William's 4th house, symbolizing family roots and parental inheritance. William may be the one to make the first step toward reconciliation or the one who has softer feelings for the brother. That is also the astrological symbolism for the reported close bond between two siblings after the death of their mother.
Passionate indignation and public attack as percieved self-defence
However, Saturn in Scorpio in Harry's horoscope catalyzes a passionate and indignant motivation. Hence, according to its symbolism and regarding the rest of the horoscope, it can generate attacks and revenge and ultimately go against Harry's needs. With such a strong need for self-protection as indicated by Saturn and the afflicted Moon in Taurus, it is questionable how well Harry can handle the exposure of his privacy, regardless of how much he has control over it and how lucrative this publicity is for his new start in life.
Because his grandmother's, the late Queen Elisabeth's natal chart also shows elevated Saturn in Scorpio, I must mention it here. Queen's Saturn squares the angular Moon in the 7th house and Mars in the 1st house. She lived in the limelight without disclosing much of herself. She is also not publicly known for harsh feelings or disgruntlement. The difference is that Saturn in Queen Elisabeth's horoscope is muted and sublimated by aspects with Neptune and Jupiter. Mars disposes Saturn, the same as in Harry's chart, but Mars is in conjunction with Jupiter, its triplicity ruler. That lessens ambition and aggressiveness and, combined with the Sun in Taurus, makes her a more temperate nature, uncompromisingly committed to tradition. Her horoscope shows no criticism or impulse to separate the wheat from the chaff, which is indicated in Harry's horoscope by the Mercury and Virgo theme.
Returning to Harry's publicly staged privacy and celebrity lifestyle, the big difference compared to Meghan Markle's horoscope is interesting. Without going into details of her natal chart, the Sun in Leo and three planets in Libra involving the Moon, which rules the Ascendant, imply that Meghan is a person who needs attention and cares a lot for what others say.
The conclusion
William's natal chart, compared to Harry's, reflects less frustration, and a certain degree of softness, with Neptune on the Ascendant in opposition to the Sun and Moon in watery Cancer. With angular Jupiter sextile Luminaries and with the emphasized 9th house, William has a diplomatic talent, which Harry lacks.
The difference in the psychological makeup of siblings matters in how they approach and resolve their challenges. There is a contrast between prominent Jupiter in Willam's horoscope and prominent Saturn in Harry's. Harry's Saturn suggests that the way he goes public, with Martian undertones and confrontations, can have negative consequences. When Mars rules Saturn in the 10th house, and there are no mitigating aspects from Jupiter or Venus, it can mean a public fall from grace at some point. Jupiter in Scorpio in Willam's horoscope, along with angular luminaries, provides long-term popularity, despite occasional setbacks suggested by Mars in detriment, which disposes of Jupiter and MC.
In which way the relationship between the two ends is impossible to predict because both have the agency to repair the relationship. But for me, astrology demonstrates that Harry's motivation to distance himself from the family has much more deep roots than activities he has done together with his wife, as well as the unconscious racism that he complains about. Instead, Meghan is the catalyst of the long-seated emotional turmoil related to his identity and unfulfilled personal needs.
---
You may also find this interesting:
Partnership: astrological interpretation of a brake up
Karl Theodor zu Guttenberg 2009-2010
The Saturn Cycle and the life stations
Mars in Leo is Mars in Leo. Or is it?