16 Jul 2015 | © Tanja Ristovski 2009 - 2023

---
Notion that is common to all love relationships, whether it comes to marriage or not, is the expectation that the relationship lasts forever in its best form. However, since a partnership is not a fixed entity, but a dynamic interconnection that reflects the nature and development of both partners, it is the subject of transformation too. Each inner or outer change of one partner will somehow be reflected in the relationship. If the motivation for a partnership and the needs of two people concur or are compatible, as a rule, the relationship can more easily withstand the challenges and endure.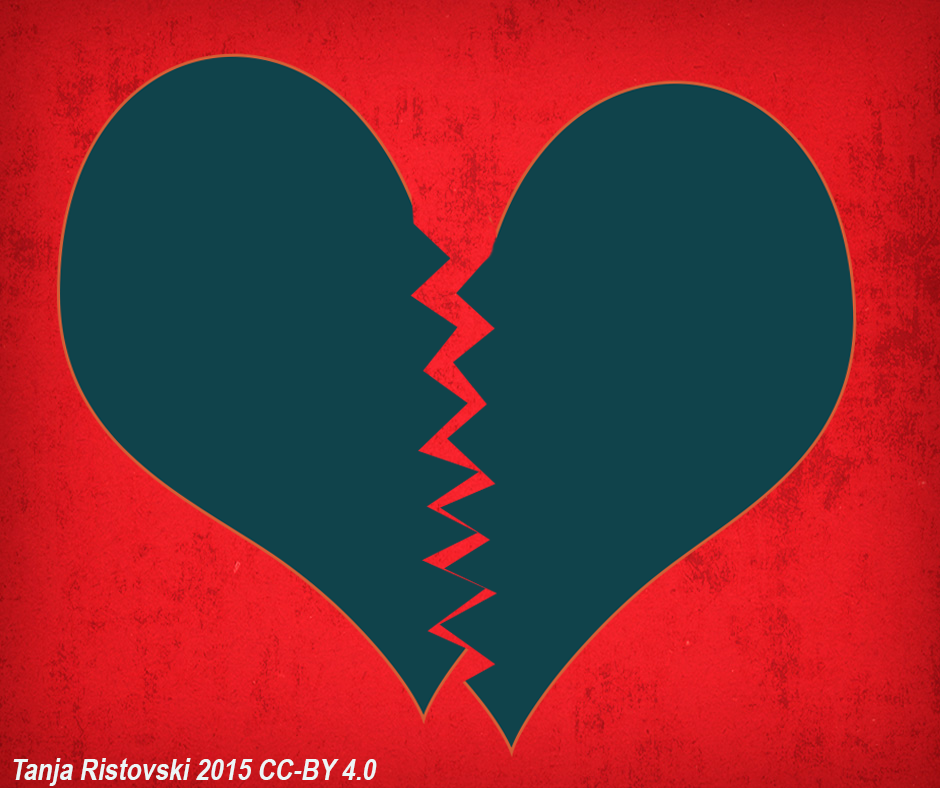 One clear and not extreme astrological example gives the relationship of the Hollywood pair Brad Pitt and Jennifer Aniston that ended in divorce and held tabloid coverage for a some time in 2005. Even though I miss credible information about the nature of their relationship, the comparison of their horoscopes can give some clues about it. Astrology can detect how individual needs form the personality and assume how motivations lead individual behavior and decisions.
Birth data from Astrodatabank: Jennifer Aniston - 11 February 1969 at 10:22 PM, Los Angeles, California, Rodden Rating AA; Brad Pitt - 18 December 1963 at 06:31 AM, Shawnee, Oklahoma, Rodden Rating A.
Attraction
Mutual attraction on mental and physical level is present here and astrologically detectable. Attraction is a requirement for two people to come close at all and to get to know each other. But deeper, psychodynamic needs play a major role when it comes to it, how relationships is going to withstand the test of challenges. And that is what I want to deal with here.
Motivations and needs
In the natal chart of Brad Pitt, that besides the Sagittarius Sun, there are Mars, Mercury, Moon and Venus all in Capricorn. This suggests a sober, down-to-earth way of dealing with emotions and passions. Moon in Capricorn needs some kind of authority in partnership. Than can be related to issues of career or financial areas, or it can be reflected in daily, organizational circumstances. At least one of these areas needs to be felt as personally advantageous in the relationship and should serve personal goals or the ambition. Emphasized Capricorn indicates that responsibility plays a role in the partnership but it can be related to areas other than fidelity.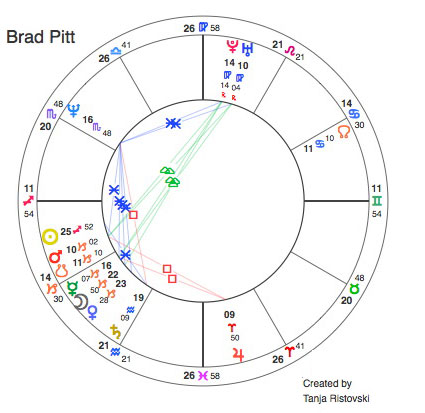 We see peregrine Sagittarius Sun, which highlights the energy to explore life through experience. In other words, lust for adventure, be it in mind or in reality, is strong and that can lead to inner conflict so long, until he finds some ways to bring together the responsibility and the adventure. Idealism is inherent to this position too - concepts and ideas are very important. Psychodynamically, these personal opinions serve the goal of affirming the personality.
Jupiter in Aries confirms: the strong ego demands affirmation and fulfillment independently from partnerships, through seeking opportunities to justify own importance. In other words : feeling very special and like a Number One, in relationship or elsewhere, is what satisfies and is supposed to crown all his efforts.
The horoscope of Jennifer Aniston shows a different picture. With Venus in Aries and Moon in Sagittarius her emotional nature is spontaneous, extrovert and sociable. Mars in Scorpio suggests strong feelings, it is connected to Neptune, so she is able to veil her passion or to delay or sublimate its expression. She seems to be driven by feelings, which is in strong contrast to the matter-of-factly manner of her then partner.
Her Sagittarius Moon is as idealistic as the Sagittarius Sun. But idealism and expectations, as well as strong personal opinions have a different psychodynamic role here. They serve to create or preserve emotional security and can mismatch the reality. The challenge for Sagittarius Moon is to develop the reference to reality as it is, so that the needs can be better fulfilled. This Moon position suggests that a friendly love is sought in relationships, where trust should leave room for personal freedoms. Those are wanted not only for one self, but are granted to the partner too. Therefore trust plays an important role and is readily bestowed upon the partner.
Aquarius Sun is social, it seeks closeness to people and likes to be part of a group. The Jupiter is here in Libra: to have a relationship and to be appreciated by others is what brings the fulfillment and what should crown all personal efforts.
The bottom line
Certain personal characteristic can be compatible: the sober and practical manner of one partner (here the Earth element in the horoscope of Pitt) can balance the emotional and spontaneous energy of the other (Fire element in the chart of Aniston). Or the other way round: the enthusiasm of Fire can inspire the levelheaded Earth for new things. But more important than personal characteristics are the expectations that two partners put on themselves and on the relationship. Holistic astrological analysis shows, that expectations do not follow the same direction in this relationship. Aniston needs a relationship with much personal space and trust, as well needs she to be very social in order to feel fulfilled. Pitt needs a relationship that takes direction of the goals set, and that allows new experiences through which he can affirm himself. The marriage between the two ended in 2005.
Neverthless we cannot make conclusions about the longevity of a partnership by comparing two horoscopes. There is no reliable astrological method that can predict that. It is decisions that people make, be it on emotional or rational, conscious or not so conscious, that bring a relationship to an end. But the horoscope analyses of two partners can give the insight into the inner order of a relationship.
This article is extended in 2022, with the comparison between Brad Pitt and Angelina horoscopes.
Angelina Jolie and Brad Pitt
With the Moon in Aries in conjunction with Jupiter and Mars, the horoscope of Angelina Jolie shows strong competitive tendencies, need to be in the first row, to lead and seek recognition that way. Mars in Aries invigorates the competitiveness and the Aries cluster in sextile with Gemini Sun suggests natural diversification of interests, energy and strategies.
The Venus on ascendant lifts the edginess of this Sun-Moon-Mars-Jupiter combination in a hot and dry sign. Friendlies, charm and graceful behavior camouflage the zealous parts of her personality, and make it easier for her blend in with her environment.
The Moon in the 9th house is conjunct Jupiter, which rules the 9th house from the 10th. This indicates that strong beliefs and a certain worldview motivate her activities and her need to be " the best ". Mars as part of the cluster rules the 5th house of children and is in the 9th house. This reflects her adoptions from developing countries and indicates a sense of personal mission in this regard, which is also true for her biological children. Furthermore, this astrological combination suggests that she seeks and defines her social position not only through her profession, but also through being a mother and working as an ambassador for humanitarian causes internationally.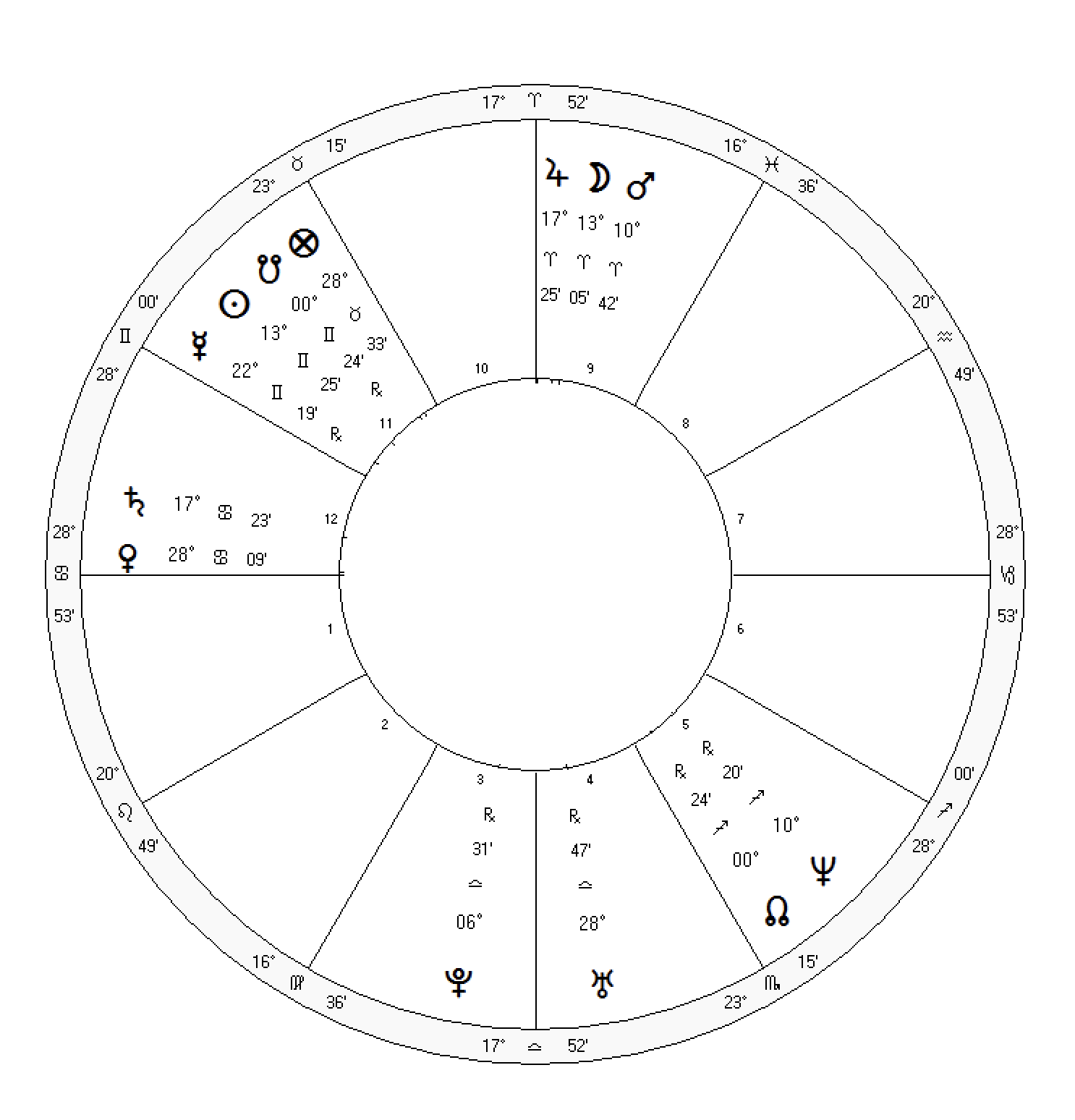 Angelina Jolie, birth data: Astrodatabank, AA: 4 June 1975, 9:09 PDT +7, Los Angeles, CA
Venus on the Ascendant is the ruler of the 4th house, which emphasizes the importance of family to Angelina Jolie, her parental family and the family that she creates. With Venus square Uranus, this is an image of possible estrangement from the father, but it still suggests a significant relationship.
In Angelina Jolie's chart, Jupiter is in the 10th house in close conjunction with the Moon. Both the Moon and Jupiter are controlled by Mars. Confirmation of her self-image by striving to lead or outshine others, the need to be the "first", and competitiveness motivate her behavior, especially in the social sphere.
In Pitt's chart, the Sun in the first house is in mutual reception (by exaltation and domicile) with Jupiter in Aries in the fourth house, and Jupiter rules the fourth house. His Capricorn Mars and Moon are ruled by Saturn. Again, the strong need for self-affirmation is evident, but instead of competitiveness, strategy and patience are at play here.
Jolie's horoscope lacks the earth element. Brad Pitt's horoscope has emphasized the earth element. We can safely assume that Brad Pitt had a stabilizing and moderating influence on Jolie in one way or another. With emphasized earth in a horoscope, a person can be so cautious that it delays or prevents him from acting. So we can also assume that Jolie was a motivating and activating force for Brad Pitt. But these influences, which can compensate for mutual lack, can also be a source of dissonance. The person with a fiery Moon and Mars may feel constrained by the earthy opposite in the partner's chart, while the partner with an earthy Moon and Mars may feel pushed or irritated by the other partner.
We do not have to go into further analyses to understand how those two horoscopes can change with time from compensating for each other, to drifting apart, because each partner can start to feel the needs and the manner of the other as obstructive to their own. And this may well prevail, although the motivational forces are similar in both horoscopes. Both have a strong need for self-affirmation and an urge to seek opportunities to prove one's importance. But the ways in which these needs are met may also begin to clash.
Of course, as always, there is free will that ultimately decides whether a couple stays together or not. But the motivational flow in each horoscope can show how strong the challenge is in a relationship.
---
You may also find this interesting:
Berlusconi and Pluto-Uranus square
Partnership: staying together astrologically
Nancy Pelosi and Donald Trump astrologically
Patrizia Reggiani Gucci: the astrological profile of the assassination client